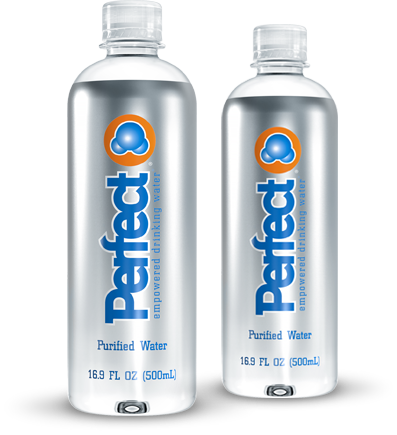 Terms And Disclaimers
Thank you for visiting www.drinkperfectwater.com. This website (our "website") is a service made available by the Perfect Empowered Drinking Water™ family of companies ("we" or "us"). All content, information, and services provided on and through our website may be used only under the following terms and conditions.
Disclaimers Regarding Claims and Statements
The Food and Drug Administration have not evaluated the statements in this website. The product is not intended to diagnose, mitigate, treat, cure, or prevent any disease or medical condition. The water is intended only for use as drinking water. No specific benefit claims are made nor represented. YOUR USE OF OUR WEBSITE CONSTITUTES YOUR AGREEMENT TO BE BOUND BY THE FOLLOWING TERMS AND CONDITIONS. PLEASE READ THEM CAREFULLY BEFORE USING THE WEBSITE. IF YOU DO NOT AGREE WITH ANY PART OF THESE TERMS OF USE, YOU MUST NOT USE OUR WEBSITE.
Your User License
You are granted a limited, non-exclusive, non-transferable license to access the website and its content in accordance with these Terms of Use. If you are under 18, you may use our website only with the involvement of a parent or guardian. Our website is hosted in the United States but contains some general information that is appropriate for global access and use. We make no representation that all materials on the website are appropriate or available for use in locations outside the U.S., and accessing them from territories where their contents are illegal is prohibited. Any references on the website to specific Perfect Empowered Drinking Water™ products and services are applicable only to those available in the U.S., and any product claims and comparisons to other products on the website apply within the U.S. only. If you access this website from other locations, you may choose to link to a local affiliate website where you will find information concerning product availability, claims, and comparisons applicable in your location. Those who access this website from other locations do so on their own initiative and are responsible for compliance with local laws, including laws regarding the transmission of technical data exported from the U.S. or the territory in which they reside.
Perfect Empowered Drinking Water™, the logo, and all product names, company names, and other logos, unless otherwise noted, are trademarks and/or trade dress of Perfect Empowered Drinking Water™, in the United States. We reserve the right to refuse service in our sole discretion and without notice. You are solely responsible for your use of the website, and you agree to compensate, hold harmless, and defend us from any claims, damages, losses, liabilities, costs, and expenses, including attorneys' fees, resulting from your use or misuse of the website. Posting or transmitting any unlawful, threatening, libelous, defamatory, obscene, indecent, inflammatory, pornographic, or profane material, or any material that could constitute or encourage conduct that would be considered a criminal offense, give rise to civil liability, or otherwise violate any law, is strictly prohibited.
Limitations on Your Use
No material from our website may be copied, reproduced, republished, downloaded, posted, displayed, transmitted, or distributed in any way, except that you may download one copy of the materials on any single computer for your personal, non- commercial home use only, provided that (i) you keep intact all copyright and other proprietary notices, and (ii) you make no modifications to the materials. You may not, without our prior written permission, frame or mirror any material contained on this website on any other server. The unauthorized use of any such material on any other website or computer environment is expressly prohibited. All trademarks, service marks, trade names, and trade dress are proprietary to us.
Privacy and Your Personal Information
Your use of our website is also subject to the terms of our Privacy Statement. You acknowledge that you have read and understand our Privacy Statement, and consent to the use of any personal information you provide in accordance with the terms of, and for the purpose set forth in, our Privacy Statement.
Intellectual Property Rights
Copyright, the website design, text, content, selection and arrangement of elements, organization, graphics, compilation, magnetic translation, digital conversion and other matters related to the website are protected under applicable copyright laws, ALL RIGHTS RESERVED. The posting of any such elements on the website does not constitute a waiver of any right in such elements. You do not acquire ownership rights to any such elements viewed through the website. Except as otherwise provided herein, none of these elements may be used, copied, reproduced, downloaded, posted, displayed, transmitted, modified, or distributed in any form or by any means, including, without limitation, electronic, mechanical, photocopying, recording, or otherwise, without our prior written permission.
Perfect Empowered Drinking Water, the logo, and all product names, company names, and other logos, unless otherwise noted, are trademarks and/or trade dress of Alticor Inc., in the United States, or its affiliates or other companies under common ownership or control (the "Marks"). All other trademarks, product names, company names, logos, service marks, and/or trade dress mentioned, displayed, cited or otherwise indicated on the website are the property of their respective owners. The use or misuse of any Marks or any other materials contained on the website, without the prior written permission of their owner, is expressly prohibited.
Warranty Disclaimer
OUR WEBSITE AND ITS CONTENTS ARE PROVIDED "AS IS" AND "AS AVAILABLE," WITH NO WARRANTY OF ANY KIND. TO THE FULLEST EXTENT PERMISSIBLE UNDER APPLICABLE LAW, WE EXPRESSLY DISCLAIM ALL WARRANTIES, EXPRESS OR IMPLIED, INCLUDING WITHOUT LIMITATION THE WARRANTIES OF MERCHANTABILITY, FITNESS FOR A PARTICULAR PURPOSE, AND NONINFRINGEMENT, AND THOSE ARISING BY STATUTE OR OTHERWISE IN LAW OR FROM A COURSE OF DEALING OR USAGE OF TRADE. WE MAKE NO REPRESENTATION OR WARRANTY WHATSOEVER REGARDING THE COMPLETENESS, ACCURACY, CORRECTNESS, INTEGRITY, RELIABILITY, CURRENCY, ADEQUACY, SUITABILITY, FUNCTIONALITY, AVAILABILITY, OR OPERATION OF THIS WEBSITE OR THE CONTENT OR SERVICES PROVIDED ON, OR ACCESSIBLE FROM, THIS WEBSITE. WE DO NOT WARRANT THAT THE OPERATION OF THIS WEBSITE WILL BE UNINTERRUPTED OR ERROR-FREE, OR THAT THIS WEBSITE IS FREE FROM VIRUSES AND OTHER HARMFUL COMPONENTS TO EQUIPMENT OR SOFTWARE.
Limitation of Liability
IN NO EVENT WILL WE BE LIABLE, NOR DO WE ASSUME RESPONSIBILITY, FOR ANY DIRECT, INDIRECT, SPECIAL, INCIDENTAL, OR CONSEQUENTIAL DAMAGES ARISING OUT OF OR IN CONNECTION WITH THE USE OR INABILITY TO USE THIS WEBSITE (OR THE CONTENT OR SERVICES PROVIDED ON, OR ACCESSIBLE FROM THIS WEBSITE), OR OTHERWISE, EVEN IF WE ARE ADVISED OF THE POSSIBILITY OF SUCH DAMAGES.
Errors and Corrections
While we use reasonable efforts to include accurate and current information on our website, we do not warrant or represent that the website will be error-free. Data entry errors or other technical problems may sometimes result in inaccurate information being shown for such things as the availability of products or services. We reserve the right to correct any inaccuracies or typographical errors on our website, and shall have no liability for such errors. We may also make improvements and/or changes to the website's features, functionality, or content (including the availability of products and services) at any time. If you see any description you believe to be incorrect, please contact us using the following link Contact Us, and we'll verify it for you.
Links to Affiliate Websites
Our website contains links to local affiliate websites, which allow you to receive specific information concerning product availability, claims, and comparisons applicable in your location. Affiliates are responsible for, and undertake to review, their own websites for compliance with applicable laws in their respective jurisdictions. These links are provided solely as a convenience to you. We do not endorse or accept any responsibility for the content, or accessibility of resources available on, any affiliate website. We suggest that you carefully review the terms of use of each affiliate website you choose to access from our website.
Your Submissions
We are pleased to hear from our website users and welcome your comments regarding our content and services. Other than personally identifiable information, which is covered under our website's Privacy Statement, any suggestions, ideas, concepts, material or other information you submit to, or send via, this website ("Submissions") shall become, and shall remain, our exclusive property. We shall have no obligation of any kind with respect to such Submissions and shall be free to use and disclose the Submissions to others without limitation.
Governing Law and Jurisdiction
These Terms of Use are governed by and construed in accordance with the laws of the State of Utah, USA, without giving effect to any principles of conflict of laws. Any controversy or dispute arising out of your use of our website shall be submitted, and you irrevocably consent, to the personal jurisdiction of any state or federal court located in, or whose district includes, Utah County, Utah, USA. If any provision of these Terms of Use is found to be unlawful, void, or for any reason unenforceable, then that provision shall be deemed removed and shall not affect the validity and enforceability of any remaining provisions.
Changes To These Terms of Use
We reserve the right, in our sole discretion, to change these Terms of Use at any time. Updated versions of the Terms of Use will be posted here on our website and are effective immediately. The date of the newest version is posted below. Please check back frequently, especially before you use our website, to see if these Terms of Use have changed. Continued use of the website after any changes to the Terms of Use constitutes your consent to such changes. These Terms of Use revised March 2, 2008